Why care & coverage together?
When your health plan, insurance, doctors, specialists, and medical facilities are all connected, accessing care becomes more convenient and affordable for you. You get the care you need, when you need it, on your terms. Your average health plan can't do that.
Our integrated system connects the dots for your health
Our integrated health system is designed around you for a seamless care experience. Your doctors, pharmacists, and diagnostic technicians all work as a team to support your health.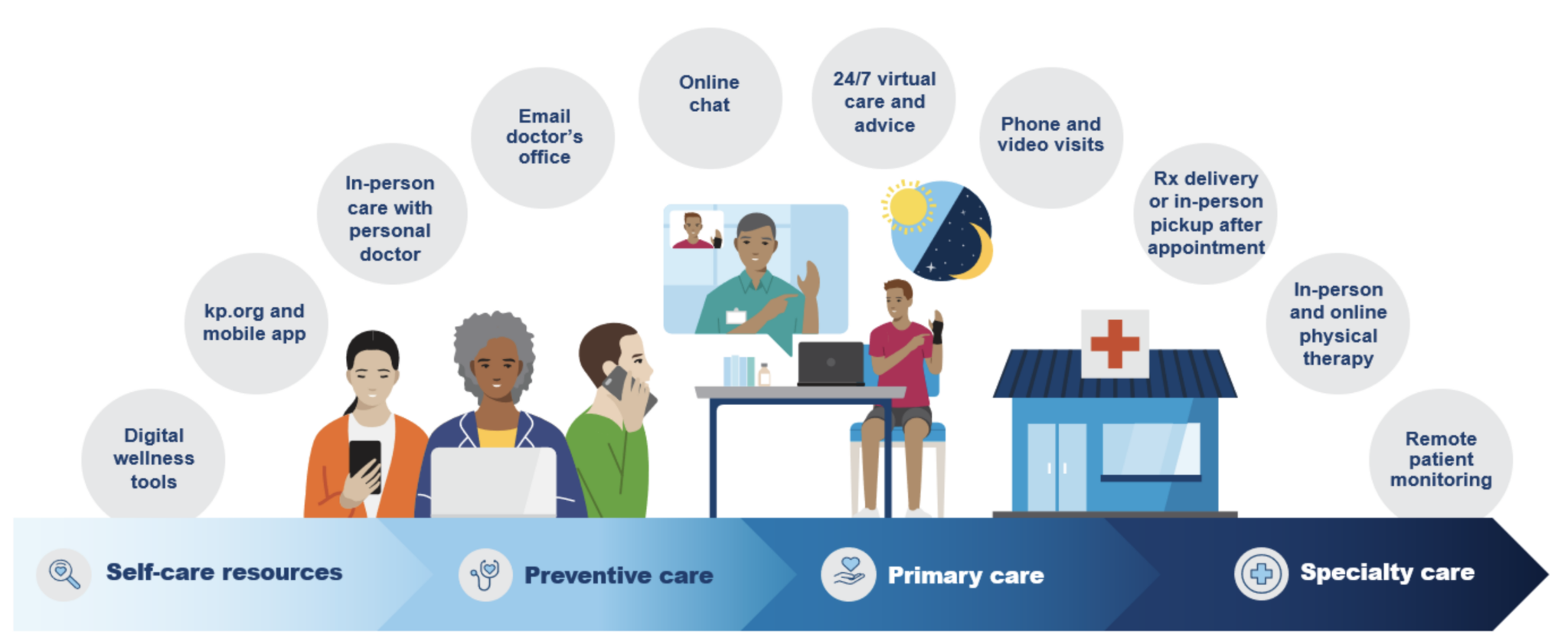 Our care is nationally recognized for excellence
Our quality of care has been recognized by many organizations and publications, which helps us give you better health outcomes.
National leader in health care
A survey of health care organizations by Insure.com rated Kaiser Permanente #1 overall among 15 competitors.1
Top-rated plan
Our commercial health plan in Maryland, Virginia, and Washington, DC is rated 5 out of 5 by the NCQA—the highest rating in the nation.2
Top doctors
Hundreds of Permanente physicians have been nominated by their peers and recognized as top doctors by reputable magazines.3
Higher life expectancy
Recent research by The Permanente Journal found that Kaiser Permanente members live 6 years longer than the national average.4
1
 In the survey
Best Health Insurance Companies of 2023
by
Insure.com
, Kaiser Permanente as a national enterprise is rated #1 overall among 60+ insurance carriers.
2
 NCQA Commercial Health Plan Ratings 2022.
3
The Mid-Atlantic Permanente Medical Group is the largest multispecialty medical group in the Washington, DC, and Baltimore areas and exclusively treats Kaiser Permanente members. Permanente doctors are recognized as Top Doctors in 
Northern Virginia Magazine
(2023),
Washingtonian
magazine (2022), and
Baltimore
magazine (2022).
4
 Anthony Finch, MS, M Cabell Jonas, PhD, Kevin Rubenstein, Eric Watson, BA, Sundeep Basra, MPH, Jose Martinez, BS, & Michael Horberg, MD, MAS, FACP (2021). Life Expectancy Trends Among Integrated Health Care System Enrollees, 2014–2017. Permanente Journal, 25(4), 10–17.
thepermanentejournal.org/doi/10.7812/TPP/20.286
.
Easy to Join
Find out how convenient it is to switch.
Connect with a Kaiser Permanente advisor to learn more: 800-324-9208 (TTY 711), Monday through Friday, 8 a.m. to 11 p.m.